About Me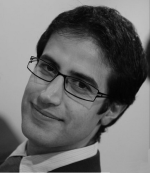 My name is Mehdi Khalili. I am a senior consultant at the most awesome software consultation company ThoughtWorks working out of the New York office. Before ThoughtWorks I worked as a senior developer for another really awesome software consultation company called Readify and lived in Gold Coast in South East Queensland in Australia.
I live with my beautiful wife, Shadi, and my funny little boy, Benjamin, in Long Island New York (that is until we decide to migrate to yet another continent which has somehow become a pattern in my life)! If you're curious to know where I am originally from you may read this for full details.
In this blog, I will try to write about things that interest me as well as those that annoy me :p My main interests are programming (C#, Javascript, Ruby and Rails), Agile and Lean. If this is your first time here, don't forget checkout my greatest hits.
You may find me on Twitter, LinkedIn, Google+, GitHub and SlideShare.